Makeup Lessons Naomi Martinez Studio
Bridal Makeup & Bridal Hair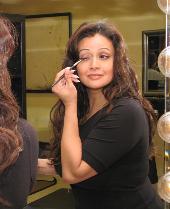 Learn the tips and techniques the professionals use! Mineral Makeup now available for purchase click on link

During your makeup session, you will have the chance to use, and if you wish, purchase professional makeup products.
Individual Makeup Lesson
$75 hourly rate (per person)
(1.5 hours minimum recommended)


I will review the following with you:
Skin care
How to choose and apply foundation
Concealing Techniques (dark circles, blemishes, etc...)
Eye shadow combinations and techniques
How to properly apply eyeliner in order to achieve different effects
Blush and contour techniques
Choosing the correct brushes and how to hold them properly
Overview of how to care for your make-up, and most importantly, how to keep your make-up and brushes sanitary for use.
Naomi Martinez will try to assess the look that the client is trying to achieve (day, evening or both) then cater the training session to that request.

Naomi is able to train both men and women on make-up techniques.